The two-hour cervical total disc replacement surgery at ADK Hospital this Saturday morning - streamed through Facebook and YouTube – ended a success and attracted tens of thousands of viewers, report organizers of the Maldives Spine Conference 2017 - first spine conference in the country.
Maldives Spine Conference 2017 began last Friday. It is an event by ADK Hospital and Maldives National University (MNU), which recently signed an MoU to promote health education in the country.
Live video of the cervical total disc replacement surgery at ADK Hospital this Saturday morning was shared with as part of the conference.
The surgery was carried out by a team led by neurosurgeon Dr. Richard Wohns.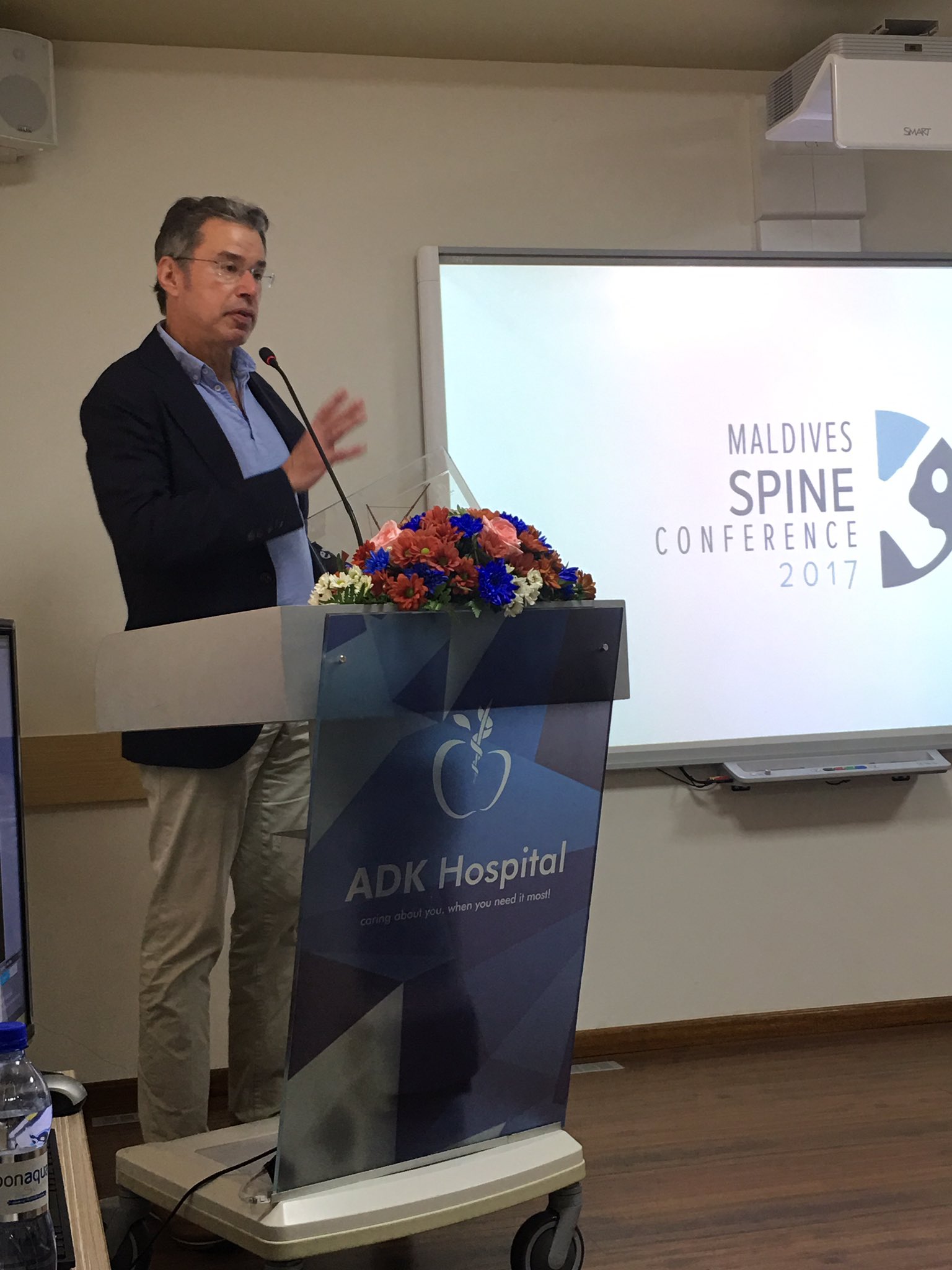 Commenting on the surgery, Managing Director of ADK Hospital, Ahmed Affaal noted cervical total disc replacement surgery was rare even in the South East Asian region. And that conducting and successfully completing such a surgery in Maldives was evidence of progress in the healthcare industry.
"This surgery is rare even in this region. But Maldives today replaced the cervical disc with an artificial disc and completed a successful surgery. This is evidence the healthcare industry is progressing," said Affaal.
ADK Hospital began conducting spine surgeries two years back.
Participants of the conference were informed of the spine surgery services currently offered by the Neurosurgery Department of ADK Hospital.
Affaal said the large volume of views the surgery attracted was evidence of the boost in confidence of the people regarding the healthcare industry of Maldives.
The hospital has confirmed close to 50,000 people viewed the live surgery.
He added the live surgery had also been a good learning experience for students and aspiring healthcare experts.
Medical students who viewed the surgery from a classroom were provided the opportunity to question Dr. Wohs and the rest of the team throughout the live surgery.
Maldives Spine Conference is underway with 75 – 100 neurosurgeons and orthopedicians from Maldives, Sri Lanka, India and Nepal.
Affaal reports ADK Hospital is working on arranging for total disc replacement surgery to be available from the hospital on a permanent basis.
The Maldivian patient who underwent the surgery is doing well and is expected to make a full and quick recovery.